WCI® – Wellplast® Corrosion Inhibitor
What is WCI® and how does it work?
With the material WCI®, an abbreviation of Wellplast® Corrosion Inhibitor, Wellplast AB can offer a unique solution where the box, interlayer or the interior actively protect all metals from corrosion. WCI® consists of  Wellplast® corrugated plastic with an added corrosion protection. Technically we have managed to bind the anti corrosive substance VCI in the polypropen plastic which Wellplast® partly consists of.
Advantages
-Effective corrosion protection
-Simple and quick packing
-Avoid greasing and washing
-Keep the details clean during transport and storage
-Adjusted for automatization and robot packing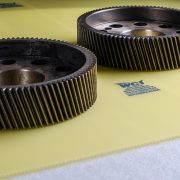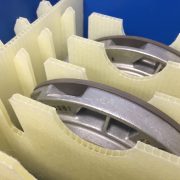 Nowadays metallic details don't need to be greased before storage and transport. This also means that they don't need to be washed before assembly. WCI® keeps the products clean at the same time as it keeps the parts corrosion free. It is also an effective alternative to the corrosion protective paper and bags as it accelerates the unpacking. WCI® is usually used at automatization of the packing process. WCI® packages facilitate the packing of robot details (parts).
What is VCI?
VCI is an abbreviation of Volatile Corrosion Inhibitor. It is a substance which in very very small concentrations actively inhibits, prevents or completely stops the processes that create rust or corrosion damages. What inhibits the rust/corrosion is a steam phase which effectively prevents the atmospheric corrosion arising in environments with high humidity of the air, high contents of salt or where the pH value deviates from the normal.
How does VCI work?
VCI consists of organic substances which very slowly are vaporized and a thin film on all metal surfaces is formed – on the outside as well as on the inside. This protective film, which only is some few my thick, prevents the interaction that would arise between the oxygen in the air and the atmospheric humidity on the metal surface. From the time when the product has been packed it normally takes 24 hours before the VCI vapors have spread and created balance. VCI works for up to two years and is self-healing, i.e. the packed product shall be checked and if you therefore open the packaging, the VCI continues to protect the product after it has been packed again. If extra VCI products complete the packaging and/or a hermetic outer packaging is added, extreme protection times can be obtained. VCI is multi-protective and protects ALL types of metals, alloys and treated surfaces.
​
Specifications
WCI®
WCI® Permanent
Raw material

Polypropylene, anti corrosion additive

Polypropylene, anti corrosion additive
Thickness

2 – 5 mm, 3 mm och 3,5 mm as standard

2 – 5 mm, 3 mm och 3,5 mm as standard

Maximum size

4000 x 1600 mm

4000 x 1600 mm

Weight

250 – 1500 g/m2

250 – 1500 g/m2

Colour

Yellow (semi transparent)

Yellow

Use

One-time

Suitable for multiple uses

Printing possibilities

Digital, UV, stamp, screen, flexo

Digital, UV, stamp, screen, flexo
Segment:
Automotive and engineering  Construction
 

 
Contact us for more information or samples
Wellplast AB
Turistgatan 2
SE-265 39 Åstorp, Sweden
Phone: +46 431 431 444
Fax: +46 431 431 555
info@wellplast.se or use the form
Other Wellplast® materials